Mountaineer twins Tashi and Nungshi Malik give expert advice on trekking in New Zealand, and beyond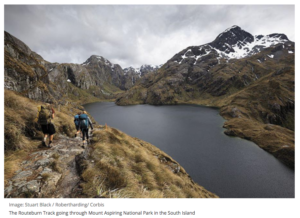 There are lands that are meant to be explored on your feet. New Zealand is one of them. With an immensely diverse topography, it can spoil you for choice. Whether it is one of the Great Walks, an epic multi-trek around the country, or just a walk around the scenic countryside, there is something for anyone who loves the outdoors.
It is no surprise then that Tashi and Nungshi Malik, the 24-year-olds from Dehradun who made history last December by being the first siblings and twins to scale the Seven Summits—the highest peaks in each of the seven continents—have made it their home since February this year. Studying for a postgraduate degree in sports and exercise at the Southern Institute of Technology in Invercargill, they have been living at the southern-most tip of the country.
"Is there anywhere else more beautiful than New Zealand to get back to nature? Not likely," says Tashi with a wide grin. "Having stepped on the highest point of every continent, we find New Zealand as one of the best trekking destinations in the world. In fact, New Zealand is best explored along its walking and hiking trails to really absorb its mesmerising natural landscape."
There are walking options that suit all levels of fitness and trekking experience. The thousands of kilometres of tracks traverse varied landscapes such as national parks, native forests, stunning coastal regions, beautiful lakes, mountain tops and bottomless valleys (see The Maliks' Favourite Great Walks). What comes in handy is that these world class multi-day hiking trails are well supported by a reliable network of necessary support-providers and trek-operators.
"The unique selling point of trekking in New Zealand is the massive network of huts, called baches [pronounced batches], throughout the country that offer people a comfortable and dry place to sleep while providing access to remote areas of the country," says Tashi. So you are not bothered with problems like sleeping in the rain, being too cold at night, or having to carry all kinds of expensive equipment. This makes it possible for many more people to experience New Zealand's incredible backyard. "It is also extremely safe and hassle free," says Nungshi, the older twin. Priced between $5 and $15 per night, baches do not require advance booking if you are travelling outside of peak season.
But 'peak season' is probably a term that's flexible in this part of the world. What you plan to do is what decides which season you should be visiting the country in. "If you are thinking of visiting New Zealand for walking or hiking, a big part of your planning will be learning more about the seasons to decide the best time for your visit," says Nungshi. "After all, one of the main reasons you're visiting is to spend time outside enjoying New Zealand's wonderful countryside, isn't it?"
This also means there is no 'bad' time for hiking in New Zealand. Each season brings its own different experiences (See Seasonal Picks). If you are wondering what are the downsides to exploring the Kiwi treks and trails, the twins "frankly don't see any". A little probing later, they say reluctantly: "Just that during the peak trekking season in summer, around November to January, one of the biggest mistakes visitors make is to assume that they don't have to book the Great Walks in advance," says Tashi. "It is relatively a small country, but its Great Walk network attracts thousands of people each year and one may not have access to all of them due to heavy bookings. Keep in mind that these huts can get very busy, with up to 60 people crammed into a common kitchen area and sleeping quarters. So it's best to plan well ahead, somewhere in July-August."
The twins add that another small challenge to consider is transportation. Many of the Great Walks and tramps in New Zealand unfortunately are not a loop; which means they don't, naturally, bring you back to where you started from. At the end point, you need to arrange for transportation by bus or water taxis beforehand.
And although every season is suitable for some kind of trek or the other, weather is a different matter altogether. The country's diverse landscape creates great variations and unpredictability in weather conditions.
"The temperature at the bottom of a valley can be quite different from that of an exposed mountain peak," says Nungshi. "So trekkers have to plan and prepare accordingly, with options to add and remove layers of clothing as per the changing weather."
"One downside we find is the costs associated with dehydrated camping meals. One such packet of 'a two-person meal' [which is really more suitable for 1-1.5 person] can run you anywhere from $9.50 to $15.50, depending on where you buy it. One way to reduce costs is to split a dehydrated meal and a pack of instant noodles," the twins add.
The ideal trek, or a "serious trek" (as the twins put it), needs a sturdy pair of lungs, fit legs and a good amount of preparation. "Anything lesser than that and we jokingly call them morning and evening walks," they laugh. (See Train For A Tough Trek)
The modern pace of life, of course, does not allow everyone the luxury of spending several days on trekking. "So, one day or even half a day of some serious trekking is cool. For it to be really rejuvenating and lots of fun, the locale obviously must be away from the crowds, noises and distractions of city life," says Nungshi.
The ideal trek must be amid natural beauty, with "some degree of gradient even if it is a gradual rise and fall in landscape", says Nungshi. It should ideally end with a camping out, "where we are able to have a greater feel of living off the land and the excitement of living it out all by ourselves out there amid wild nature".
In New Zealand, you can locate such spots almost every few kilometres. "Even when we were in India, we would invariably hunt out such opportunities along the highway while driving from Dehradun to Delhi," recalls Tashi. "What we would do is to keep a pair of trekking shoes handy, with a small backpack with water, essential toiletries and snacks. As we would drive, we would look out for dirt tracks leading out from the highway into the farmlands. We would drive a distance, park the vehicle near a field, put on our gear and head out trekking for a few hours through the serene, quiet countryside."
Beyond the isle
Many trekkers to New Zealand have an Antarctica expedition as their ultimate destination, and Maliks were no exception—they made it to the top of Antarctica's highest peak, Mount Vinson, and the South Pole in December 2014. But they chose to enter Antarctica from South America.
"Geographically, both the southern tip of Chile on one side and the southern tip of New Zealand on the other are roughly at the same distance from Antarctica," says Nungshi. "But since Mount Vinson and the South Pole are located in the western half of the continent, most explorers, trekkers and mountaineers reach the mainland of Antarctica via Chile. It's also because Mount Vinson is much closer to the Union Glacier, which is a popular starting point of all these adventures and which itself is located on the north-western side of Antarctica."
What the more enthusiastic tourists prefer to do from New Zealand is to book a chartered cruise to Antarctica along the country's southern coastline and sub Antarctic islands. Those who actually want to venture into the Antarctic slopes need to acclimatise before embarking on the trek.
"For acclimatising and doing pre-Antarctica training, the Southern Alps are certainly a favoured destination for those who can afford the long travel," says Tashi. One of the world's most popular mountain ranges—it is also where several well-known mountaineering movies, including Vertical Limit, have been filmed—it extends along much of the length of New Zealand's South Island.
Tashi recalls the extreme climatic conditions in these geographical zones and the challenges they pose. "Temperatures average at -25°C and can easily dip from -35°C to -40°C. At each Pole, there is zero tolerance towards leaving behind any form of garbage. So you have to collect and carry your own faeces and urine in bags and dispose them of at the end of the expedition. This means the net load you have to carry remains the same or keeps increasing with each day," she explains.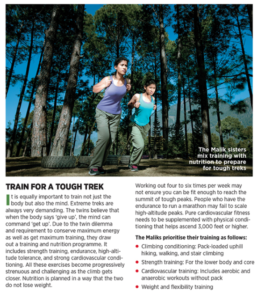 "The differences between the North and South Poles, however, are quite substantial especially from the  safety and relative challenge angle," says Nungshi. "The South Pole is easier, according to our experience, for two reasons. First, the ice is thousands of feet deep, well crystallised and absolutely safe to ski on. On the contrary, the ice pack at the North Pole is actually a floating mass of ice on the Arctic Ocean. Apart from shifting locations [as much as a few kilometres in 24 hours], it is only a few inches to a few metres thick. As a result, you have to negotiate many 'leads' [openings in the ice that expose Arctic waters] which are potentially fatal if you fall into them."
Also, unlike the South Pole, there are no permanent markings at the North Pole, since it is always moving. "With fast melting glaciers and the Arctic ice, we fear that some years down, it may not even be possible to ski all the way up to the North Pole," says Nungshi.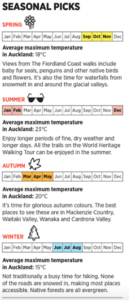 This article appeared in the 
Forbes India
 magazine issue of 11 December, 2015